Axialis Screensaver Producer is a powerful and easy-to-use tool to create and compile redistributable Windows screensavers. You can create all kind of screensavers based on Sprites (animated objects), Flash, Slideshows and Video Clips. It has a fully integrated workspace that permits working efficiently and create professional screensavers in minutes.
It compiles and produces screensavers compatible with all versions of Windows (fully compatible with Windows XP, Windows Vista and Windows 7, screensavers are compatible with 32-bit and 64-bit versions of Windows). You can customize the screensaver About dialog box. Produced screensavers are compatible with all video configurations (screen size and color depth).
An Integrated Suite of Tools
A professional tool must be Powerful and Easy to Use. That's why we have created an intuitive fully integrated interface. All is visible and easy to access in the main window: A built in dockable media files librarian to manage your documents, a powerful file browser with thumbnail preview to explore your hard disks, an ergonomic Windows 7 like Ribbon toolbar with tabbed multi-document support, and more...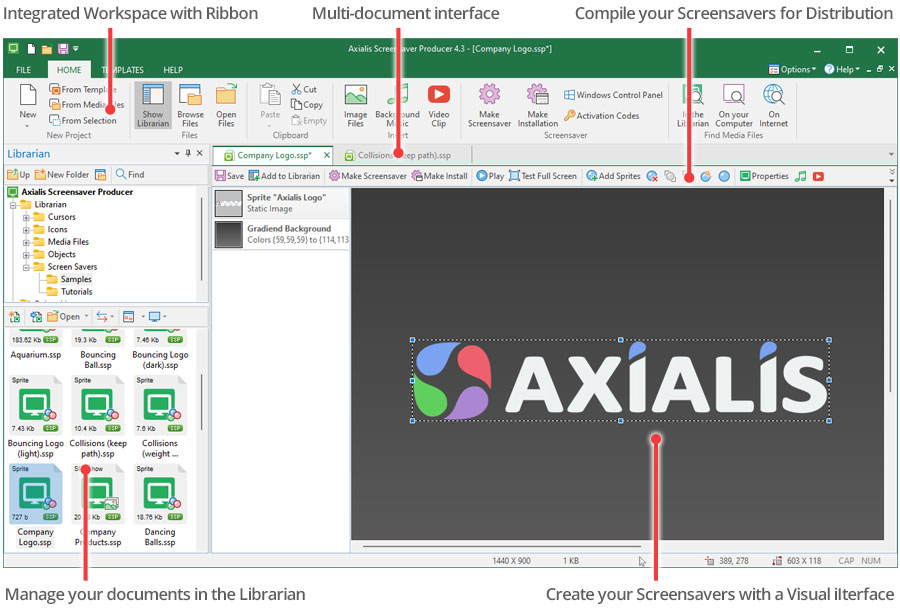 A WYSIWYG Editor
To increase your productivity, we have created an advanced WYSIWYG screen saver editor with full Drag & Drop support. WYSIWYG means "What You See Is What You Get". So no surprise at compilation time, your final screen saver is strictly identical.
A Powerful Built-in Librarian
Use a powerful built-in librarian to easily manage all your media and screensaver projects files. This is a dockable window (which can be hidden) where you can store, move, copy and extract all the files you're using in your work (images, video, sounds and music). Very easy to use: Double click to open a file in a window (even animations, music, video...), use Drag & Drop to add it in a project.
Create screensavers based on Sprites (animated objects)
Creating state-of-art screensavers with sprites (animated objects moving on screen) has never been easier. For example, you'll be able to create in minutes a cool screensaver with your company logo bouncing on screen. Images with transparency (including alpha-channel) are supported. Several options are available: Bouncing on the screen borders, realistic collisions between objects and more....
Create screensavers based on slideshows
Creating slideshow screensavers is also possible. Many transitions are available including the famous "fade-in & fade-out" effects. Several options are available to meet your needs: background sounds, ability to attach a speech to each image, display with automatic screen resolution adjustment, and more. Supported image file formats are: BMP, JPEG, PNG (including with alpha chanel 32BPP), TIFF, PSD, GIF, PCX, BMP, PCD, WMF, TGA, IFF and LBM. A cool feature permits adding a watermark text or logo over the slide images.

Create screensavers based on Flash moview
If you use to create Adobe Flash movies, you'll produce limitless screensavers. The product is fully compatible with all SWF movies. You can produce full screen or scaled playback. An interesting feature permits to create interactive screensavers (the user can click in movie to interact with the screensaver). In order to ensure compatibility of your Flash movie with all computers, the genuine Adobe Flash player plug-in installer can be included in the distribution package of your screensaver. If the end user does not have the latest version of Flash on his computer, it is automatically installed.
Create screensavers based on Video Clips
If you have created a video movie, you'll be able to create a screensaver from it in a few clicks. For example, it's a great idea for a company to make a screensaver from a TV ad clip. Many file formats are supported: AVI, MPEG, ASF, QuickTime MOV, MP4, M4V, Flash Video FLV, 3GP.
Create professional Installation Packages
The application permits creating installable packages of your screensavers. This is the best method to distribute your screensavers. The resulting installation is very professional and permit the end-user to easily install the screensaver. Many options are available to customize the installer (logo, icon, license agreement, command switches...). The installation procedures can be digitally signed.
Make trial screensavers and sell them
Sell your screensavers by creating Limited/Trial versions. Many authors resell their screensavers through Internet. The product permits creating demo/limited versions of your screensavers. This is easily done by simply adding an option of the compilation prosess. You can limit the trial period or the number of displayed objects. The screensaver is unlockable by codes. If the user is interested by the trial version, he purchases a code to unlock it. You can generate unlock codes using a built-in feature.
Add a RSS reader in your screensavers
By adding a RSS reader in your screensavers, you keep your users up to date with your latest news. Simply add a URL or UNC to a XML news file and the screensaver will load the latest news each time it starts and display them in a nice popup window.
Work with Adobe Photoshop and Illustrator
Adobe Photoshop and Illustration are the industry standard in image creation. That's why we made plug-ins that permit transferring your images directly to Axialis Screensaver Producer without creating temporary files. This great feature lets you work efficiently and create high quality screensavers. .
Use a Media File Browser with previews
To create screensaver you must work with many media files. A built-in file browser permits browsing your disks and find media files such as images, video clips, Flash movies, audio and musics! This advanced browser display media files in thumbnail mode. By a simple click you open any media file in a viewer window.
Screenshots
Easy-to-use workspace
• Customizable interface compatible with new Windows 7 themes
• The program is fully integrated in one workspace
• All the features are visible on screen and easy to access at any time
• Create screensavers from a selection of media files in one click!
• Includes a built-in explorer with thumbnail preview to browse your disks, find images, sounds, video files...
• A built-in Librarian helps you to work more efficiently with your media files and screensaver projects
• An image loader/viewer to create screensavers from pictures in one click!
• Full Drag & Drop support in all workspace
• 3 Built-in search engines: Computer, Librarian & Web
• Advanced HTML help with Getting Started lessons, How-to procedures and reference manual.
• Context help which permits to get help when using dialog boxes.
• Built-in free online upgrade system to keep to software up to date!

Powerful features
• Create screensavers in minute using a WYSIWYG editor.
• Create customizable installation packages (with uninstall procedure) to easily distribute your screensavers
• Many command-line switches available to adjust installation execution (quiet install, destination folde...)
• Compilation Wizards which help you create screensavers in seconds
• Screensavers are compatible with all versions of Windows: 98, 98SE, ME, NT4, 2000, XP, Vista, Windows 7.
• Screensavers are compatible with 32-bit or 64-bit versions of Windows.
• Screensavers run on all screen resolutions (automatic scale)
• Support images and sprites with alpha channel (smooth transparency, shadows and image borders)
• Add RSS news in your screensavers. A built-in RSS reader permits to display news from any source (URL or local file)
• Customize icons and illustrations images of the screensaver and the installation package
• Transfer images from Adobe® Photoshop® and Illustrator using a plug-in (through memory - no more temporary file)
• Create demo/shareware versions of your screensavers and sell them!
• Ability to change the trial period delay or the number of limited objects.
• Ability to customize messages of the demo/trial version.
• 8 languages are available for the final screensaver installation: English, French, German, Italian, Spanish, Portuguese, Russian and Dutch.
• Many transitions effects in slideshow screensavers (fade, crossfade, dissolve, slide, zoom...)
• Built-in unlock code generator for your demo/shareware screensavers
• Create Flash® screensavers with optional user interaction
• Create Slideshow screensavers with various transition effects (including smooth fade)
• Create screensavers with animated sprites and collision effects
• Create cool music ambiance in screensavers using sound loops
• Create Video screensavers containing several clips (played in sequence)
• Supports PNG and BMP with smooth transparency (alpha channel)
• Supports animated and static GIFs with transparency
• Supports many image formats: BMP, PNG, JPEG, TIF, QTI, TGA, PSD, GIF, ICO, CUR...
• Supports many video file formats: MediaPlayer (AVI, ASF, MPEG, WMV), Apple QuickTime (MOV), Mpeg4 (MP4, M4V), Flash Video (FLV), 3GP.
• Supports many sounds and music file formats: WAV, MP3, MIDI.
• Supports Adobe Flash movies up to v10.
• Ability to include the Adobe Flash player plug-in in the screensaver installer.
• Advanced support of FSCommands to deal with specific features of screensavers.
• More than 20 screensaver project samples provided
| | | |
| --- | --- | --- |
| | Product Info | |















| | | |
| --- | --- | --- |
| | Related Information | |

Tutorials
In this section you'll find various tutorials for Axialis products and related activities.


Manuals
Download up-to-date printable product manuals in PDF and HTML formats.

Did you know?
When you purchase an Axialis product, you get free upgrades for life. Click to learn more..
| | | |
| --- | --- | --- |
| | Related Products | |