SHARE THIS ARTICLE
COMMENT THIS ARTICLE
64 Free Social Media Icons
May 17th, 2017 - Icons, Free, IconGenerator
Axialis team is pleased to offer you 64 Free Icons in the Axialis Flat Design style.
This icon family, which is compatible with Axialis IconGenerator, was designed for use in web sites & applications. The style is flat, colorful & slightly rounded which lets you create modern & friendly user interfaces.
Free icons are licensed under the Axialis Free Icon License. The short version is:
64 unique icons, 79 overlays
Optimized for 24x24 grid
Flat Color Palette
AI, SVG, XAML, PDF, EPS, PS vectors
PNG, BMP, JPG, ICO, ICNS bitmaps
IconGenerator compatible
Shaded Colorization possible
Version 1.1 - May 17, 2017
64 icons - IconGenerator - 14.0 Mb
SOCIAL MEDIA Set - 64 icons
This set covers all your needs to illustrate SOCIAL MEDIA functions. It contains button of the 64 major social media sites, each one containing the main color of the original logo.







To let you cover all your needs, Axialis IconGenerator is provided in the icon set. This free application lets you generate all files formats, customize with overlays and colorize icons. If you need specific additional icons, suggest them.
The Social Media icon set contains 64 unique icons and 79 overlays. This lets you create thousands of different icons for your all your needs.
Below is a preview of the base icons without derivations Click here to see the full set at scale 4:1 with icon labels (quality has been altered and red lines have been added for copy protection reasons):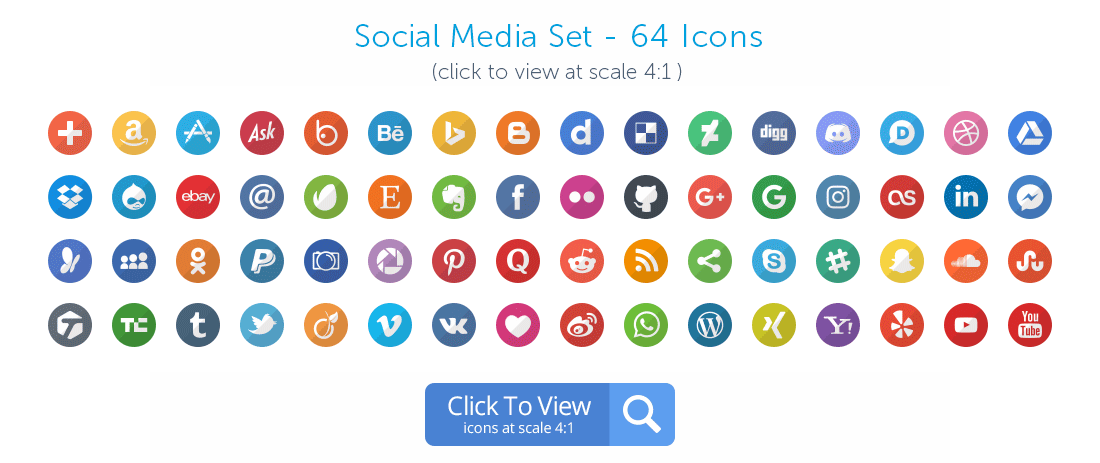 Compatible with IconGenerator
Icon sets are compatible with Axialis IconGenerator. Our free application lets you create all file formats, make derivations with overlays and colorize the icons. The application is very easy to use and is included in each icon set:

Axialis IconGenerator has many features, including:
Generation of Vector files: SVG, XAML, PS, EPS, PDF;
Generation of Bitmap files at any sizes: PNG, BMP, JPEG, ICO, ICNS, Image Strips;
Customization of icons with overlays and Colorization;
Management of icon collections;
And much more...

Many overlay images are included in the icon sets. They let you illustrate actions or states associated to an icon like ADD, REMOVE, INFO, ERROR, etc. With Axialis IconGenerator you can associate them to icons in a few clicks and place them at 4 different positions:








You can also choose to colorize the icons to match a specific interface color. This icon is colorized using shades of tints keeping the flat style.







Comments