Image Object Packs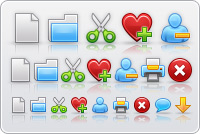 Not very good at drawing? Create professional icons by assembling ready-to-use image objects. This is easily done using drag and drop in IconWorkshop.
Browse Object Packs
Lifetime License
Pay for your program once and get all new versions for free with Online Update.
Read More
Online Tutorials
Learn how to do specific tasks following step-by-step tutorials made by Axialis Team and experienced users.
Browse Tutorials
Customer Service
Purchased an Axialis product? More assistance is now available for you online: registration, account manager, downloads, key retrieval, FAQs.
Customer Service