Friendly & Minimalist for Windows 11 applications
1 set, 322 icons, 108 Overlays, thousands of possibilities.
Two levels of details aligned on 24x24 & 16x16 grids
Regular & Filled versions
Icon & Overlay Colorization
Dark Mode available
Optional Inner Background
SVG, XAML, PDF, EPS, PS, Web Font vector formats
PNG, BMP, JPG, ICO, ICNS bitmap formats at any sizes
Description
This icon set is made for use in Windows 11 applications. The style, which is rounded, friendly & minimalist is compatible with Microsoft® Windows 11 iconography specifications for system icons.
Icons were designed as vector shapes and aligned on 16x16 & 24x24 grids for pixel-perfect fit in toolbars, menus & ribbons:

The set is compatible with Axialis IconGenerator. Our free application lets you customize the icons with overlays, perform colorization and generate almost all major file formats.
Many ready-to use icon files are included in each set, including AI (all in one), AI (individual files), SVG, XAML, PS, EPS, PNG (sizes 1x, 2x, 3x), Icon Fonts EOT, WOFF, SVG, TTF, OTF.
The following icon sets are currently available:
Be Productive with IconGenerator
Icon sets are compatible with Axialis IconGenerator. This free application lets you create all file formats, make derivations with overlays and colorize the icons. The application is very easy to use and is included in each icon set.
Axialis IconGenerator has many features, including:
Generation of Vector files: SVG, XAML, PS, EPS, PDF;
Generation of Icon Fonts: EOT, WOFF, SVG, TTF, OTF;
Generation of Bitmap files at any sizes: PNG, BMP, JPEG, ICO, ICNS, Image Strips;
Customization of icons with overlays and Colorization;
Generation of Dark Mode Icons with a single click;
Creation of your own Base Icons using Inkscape and Adobe Illustrator;
Management of icon collections;
And much more...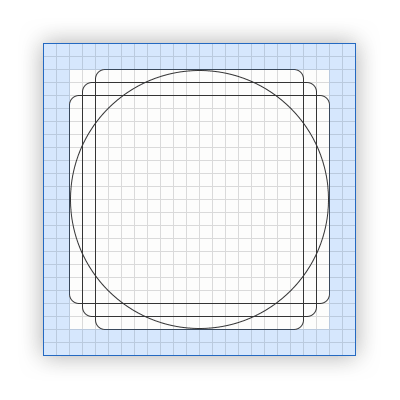 Compatible with Microsoft® Fluent System Icons
Icons were made following Microsoft® Windows 11 iconography specifications for system icons. The set is based on Microsoft® open-source Fluent System Icons.
All the icons were drawn or retouched to align on 16x16 and 24x24 grids and get the perfect visual aspect. Proportions and margins have been respected according to the guidelines of the original set.
An inner background was included to the icons to let add optional color fills. This background can be hidden if you prefer to keep the icons transparent.
The Axialis Fluent System sets contain icons that are not present in the original set. This lets you find the icons you need in your projects.
Icons are drawn in a line style: 1px stroke for size 16x16 and 1.5px for size 24x24. Lines are strictly aligned on grids to produce sharp and pixel-perfect results when rendered at small sizes.
Regular & Filled Icons
The icon set comes with two versions for each icon: Regular &amp Filled. Having two versions is useful to illustrate different states of a feature or function.For example, use the Regular icon for an inactive feature and the Filled icon for an active one. Also, some icons are easier to recognize in regular or filled version. With Axialis IconGenerator you can choose between the two versions in a click.

Icon Background & Color Fills
In order to create different states of an icon, the Microsoft Iconography Guidelines Page suggests overlapping two different images: The outlined icon and a background filled image.

Axialis IconGenerator makes things easier by providing the background image in all icons. In a single click you can show or hide this background image. This background shape is white by default but you can choose to colorize it. The application lets you colorize the outline icon as well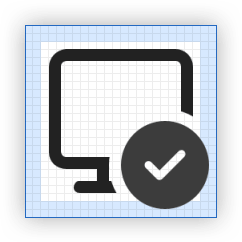 Adding Overlay Modifiers
Overlay Modifiers are small images that are placed over the icon to add information. Common modifiers are buttons Add, Remove, Ok, Info but non only. They can inform on a status, an action or an alternate meaning.
Axialis IconGenerator strictly respects Microsoft® specifications for modifiers. You can use either regular or filled modifiers for a better apparence. Modifiers are overlapping the padding zone by 1px to make them more legible.
Modifiers are usually added at the bottom-right corner of the icon, but if there are issues visual aspect, you can consider another corner.
Many overlay modifiers are included in the icon set. With Axialis IconGenerator you can add them to icons in a few clicks and colorize them using the built-in color palettes:

Colorizing Icons
The entire icon set is originally drawn in 90% dark gray (#212121). You can choose to colorize the icons to match a specific interface color or element state. Icons, Overlay Modifiers and Background Fills can be colorized separately. All kinds of combinations are possible:

If you need to implement a Dark Mode option in your application interface, you can generate all your icons for that mode in a single click:

Generate Font Icons for Websites and Applications
With IconGenerator 2.0 or superior, you can generate icons in font formats for websites. Supported formats are EOT, WOFF, SVG, TTF, OTF. You can automatically generate CSS and HTML test files for easier integration.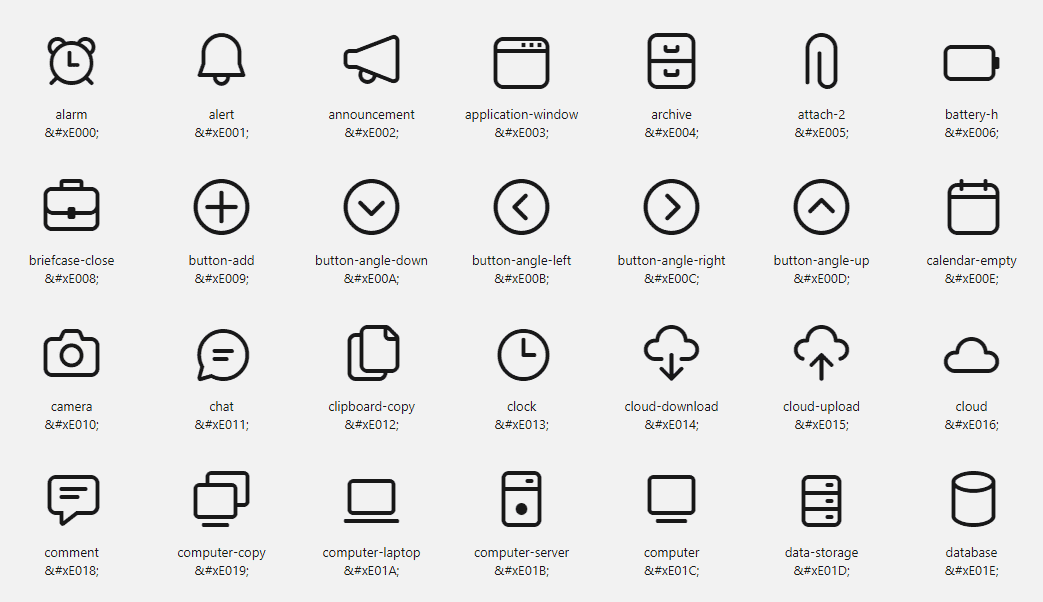 https://www.axialis.com/icongenerator/stock-icons/fluent-system/font-sample/
BASIC Set - 322 icons
Version 1.0 - Apr 26, 2021
One license is required for each
developer using the set.
Quantity: user(s)
This set covers all your needs to illustrate common functions and objects such as find, save, print, documents, clipboard, navigation, help, windows, views and much more.

To let you cover all your needs, Axialis IconGenerator is provided in the icon set. This free application lets you generate all files formats, customize with overlays and colorize icons. If you need specific additional icons, contact us to suggest them.
The icon set contains 322 unique icons and 108 overlays. This lets you create thousands of different icons for your all your needs. Below is a preview of the base icons without derivations Click here to see the full set at scale 5:1 with icon labels: