In relation to Axialis Screensaver Producer, this article offers information on the following topics:
Axialis Screensaver Producer features a built-in File Explorer that allows you to browse through your computer folders and preview thumbnails, enabling you to select files and swiftly generate a screensaver.
Open the built-in Explorer, select the files
1. In the menu, choose File/New/New Explorer (Ctrl+E). An explorer window opens in the application:
2. The window is divided in two parts. The separator can be moved using the mouse. On the left pane, use the folder tree to browse and find the desired folder 1. In the right pane, you see a thumbnail the media files present in this folder 2. Images and video files are shown with preview. You also see sound files (without preview).
3. Select the images files you want to add as sprite in your screensaver. It includes standard images, icons, cursors and animated GIFs. If you want to add a background music, select a music or sound file (MP3, WAV, MID...).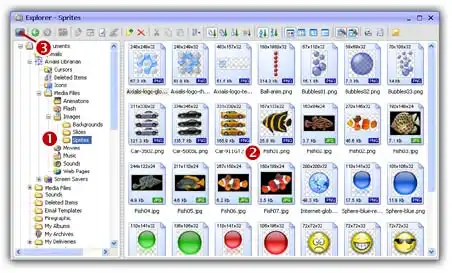 4. Click on the New Screen Saver Project From Selection (F7) button 3 or choose File/New/New Screen Saver Project From Selection in the menu.
5. A dialog box opens. Select Sprite Based Screen Saver option in the list. Click Next.
6. In this new dialog box, enter the screensaver title and some additional information (copyright, author...). Click Next when done.