In relation to Axialis Screensaver Producer, this article offers information on the following topics:
Axialis Screensaver Producer features a built-in File Explorer that allows you to browse through your computer folders and preview thumbnails, enabling you to select files and swiftly generate a screensaver.
Open the built-in Explorer, select the files
1. In the menu, choose File/New/New Explorer (Ctrl+E). An explorer window opens in the application:
2. The window is divided in two parts. The separator can be moved using the mouse. On the left pane, use the folder tree to browse and find the desired folder 1. In the right pane, you see a thumbnail the media files present in this folder 2. Images and video files are shown with preview. You also see Flash and sound files (without preview).
3. Select the video files you want to add in your screensaver. A video screensaver can include several video files that will be played in sequence. Be careful of the final size of your screensaver though!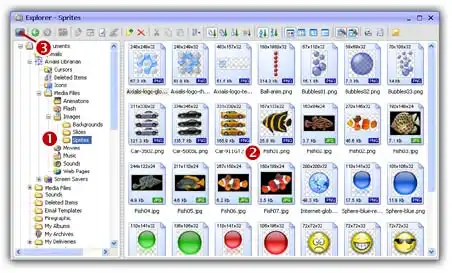 4. Click on the New Screen Saver Project From Selection (F7) button 3 or choose File/New/New Screen Saver Project From Selection in the menu.
5. A dialog box opens. Select Slideshow Screen Saver option in the list. Click Next.
6. In this new dialog box, enter the screensaver title and some additional information (copyright, author...). Click Next when done.
Customize and compile the screensaver
7. The screensaver project window opens with all the files added in the slide list area. Now select the slides and adjust display delay, transitions, scale... Specify also the screensaver display properties. To learn more about slideshow screensavers, we recommend you to follow this tutorial.
8. Now take a look at the result full screen. Press F11 or click the Full Screen button in the toolbar. The screensaver is executed full screen. Press a key or move the mouse to end the full screen test.
9. Save your project by choosing File/Save or by pressing Ctrl+S.
10. Now you can compile your screensaver or compile and create an installation package.
With Axialis Screensaver Producer, you can quickly generate screensavers. Check out the example screensaver below, which you can download to observe the outcome that can be achieved within a few minutes: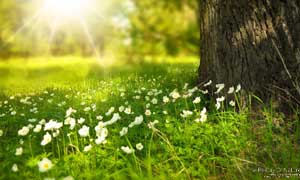 The Beauty of Nature
This sample shows how you can create a slideshow screensaver. The images are displayed in Zoom mode (the background is never visible and the aspect ratio of the images is respected on all screen formats). A watermark has been added in the lower-right corner (using the screensaver feature, not hard-written in the images).
Photos by Larisa Koshkina - ©2022 all rights reserved. Pictures were downloaded via Pixabay and resized for the screensaver. If you want to get more pictures or full resolution versions you can visit Pixabay or contact Larisa Koshkina at: https://pixabay.com/users/larisa-k-1107275